About Kid Power
Kid Power Gymnastics is a 8,400 square foot facility conveniently located on Route 20 in Charlton. The facility is equipped with 30 ft Tumbl Trak, full spring floor, uneven bars, balance beams, and specially sized preschool equipment for our Sparks and Zaps classes.

Kid Power Gymnastics is dedicated to providing students with a fun, safe and educational environment. Each student will strive for his or her personal best and focus on individual achievement. Our motto is "empowering kids for a fit and healthy future".

Kid Power Gymnastics is excited to bring gymnastics to the Charlton area!

For more information regarding classes, birthday parties and other events, please call, email or visit us on Facebook to stay up to date on our latest events and happenings!


Our owner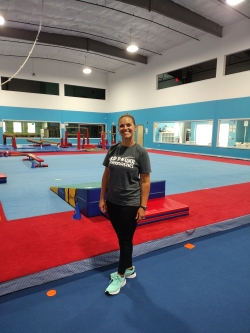 Kelly Pucci, owner of Kid Power Gymnastics, began dancing at the age of 4 and continued all the way through college.

Kelly attended Roger Williams University where she achieved a Bachelor's of Science in Business Management with a minor in Dance & Performance and graduated Summa Cum Laude. She maintained Dean's List all four years with a 3.8 GPA. She holds certifications in First Aid, CPR, AED.

Kelly dreamed of running her own facility after managing All Stars Gymnastics in Windsor, CT for 5 years. She is passionate about what she does and looks forward to meeting you!
Kid Power Gymnastics Testimonials
Testimonials from families at Kid Power Gymnastics:

Staff is very nice.

My daughter enjoys it & is inspired to continue it at home.

It is so new & clean. I also feel a very positive energy upon entering the building. Everyone that works there seems very happy.

It's clean, well organized & great location. Friendly & involved staff.

It is fun for my child. She is not a kid whom likes to be pressured to compete.

It's great all around!

Friendly instructors, knowledgeable staff let kids learn at their own pace.

Instructors are very patient.

My kids get exercise and socialization and learn to follow social norms and cooperate with peers. Friendliness.

It is clean, staff is friendly, kids are having fun.

Easy going, nice facility (clean).

I just think its fun and the kids really enjoy themselves. The staff is awesome also.

I love that it is always different and new and it is nice to see that you are still getting new equipment too.

Everyone is always smiling and even though my daughter is a handful you all seem excited to see her.

I like the variety of the sessions, the routines are modified each class to keep it interesting.

The flexibility of weeks and reasonable cost.

I find the instructors to be very "kid-friendly" and energetic.

Energetic staff, fun activities.

Very kid/family centered, clean, cheerful, motivating.

The classes are really enjoyable.

Fun atmosphere – no pressure.

Instructors seem very professional; I like that I can watch class "from a distance" and the kids have fun. How kid friendly the instructors are with the class.

I love that the kids are always occupied – never waiting in line.

The diversity of the class and the constant activity you have the kids doing.

That only after a few weeks at Kid Power my toddler is following the warm up routine and with the instructor's help and feedback she has tried all of the activities at her level.

The convenient location for us and the easygoing, fun atmosphere.

Fun, friendly way beginning gymnastics skills are taught. Cleanliness of facility.

That each class is different.... At first I did not know if I should sign her up so young (she is 2) because I didn't want her to be bored with it by the time she was 3 or 4. But each class teaches her something new and is never the same as the last class.

I love the interactions the instructors have with the children, making it fun for them to learn.

We are so happy that we have tried Kid Power. It is a wonderful new area business. Best wishes for your future.

My daughter has made huge improvements – it is very exciting to see her learn quickly and enjoy it so much. Thank you.

Keep up the great work =)

I am so glad that this has become available in our area. My daughter loves it!

Staff is great! We have been very happy with our experience at Kid Power!

We are having fun. Thank you!

You've done a great job!

Congrats on the first year. So happy you opened in Charlton – wish you many years of success!

Good job ladies!

I love how the instructor works with just my child at least three to four times each class and because she is so warm and welcoming my child runs right up to her to try an activity.

I am glad she is having a great experience at Kid Power.

I like the month to month structure, not full year commitment.

Great job, I am so happy that I found this opportunity for my daughter!

I think you all are amazing women, so friendly and caring…keep up the good work ladies!.


---

Below are testimonials from parents at All Stars Gymnastics in Windsor CT. Because you may not know Kelly yet, we wanted to share some words from parents who interacted with Kelly on a daily basis for over 5 years (2007-2012).

"Everybody loves Kelly! This is no understatement! We have known Kelly for 5 years in her capacity as office manager at All Stars Gymnastics in CT. She also taught ballet lessons to the gymnasts; my daughter's favorite practice nights were the ones that Kelly was teaching ballet. Not only was Kelly the backbone of gym operations, but she was always pleasant, patient, helpful and kind to every child and adult who walked into the gym. And demonstrated the utmost professionalism at all times. Everybody loves Kelly . . . you will too." - Kim LaDuke (team parent)

"Ms. Kelly is fabulous with children. She has been a wonderful role model and motivator for my four kids. She is always there with a smile and a nurturing touch. Ms. Kelly makes us feel welcomed and at home. While teaching my daughter dance to enhance her floor routines for States, she was an amazing teacher. She had a wonderful way of helping my daughter understand and improve on her floor and beam routines. Her teaching style is clear and enjoyable.
Kelly Pucci is a team player. Working with her is an experience that I will never forget. She is creative, dependable and a hard worker. Her attention to detail is remarkable. She truly cares and it shines through in her interactions with us (her co-workers) and the families in our gym. One is a million is the best way to describe Kelly Pucci." - Rosa Collyer (team parent and co-worker)

"Our family has worked with Kelly for about 4 years now and I have to say she is incredibly organized and so easy to work with! My daughter loves her and comes to her for just about everything from a bandaid or a hair elastic to when she has headache (or any other pain) and Kelly always handles it with patience and a smile, even when 50 other things are going on around her. She's amazing and a great asset to the gym." - Donna Milliken (team parent)

"I have known Kelly for the past 5 years as the manager of All Stars Gymnastics Academy. Kelly is one of the nicest people I have ever known. She is very professional, efficient and works very well with the kids and parents. If my daughter was younger, I would not hesitate in sending her to Kelly's gym as I feel Kelly would treat her as if she were her own and I would never have to worry about my child's experience. She is a great person and very responsible. Your child would have a wonderful experience and learn many life lessons while attending Kid Power Gymnastics with Kelly in charge." - Lisa Martin (team parent)

"I met Kelly 3 years ago at All Stars Gymnastics Academy in Windsor, CT; my teenage daughter had made the difficult decision to change gyms, and as All Stars' manager, Kelly made us both feel so welcome that what we anticipated would be a stressful transition, proved to be just the opposite. I was so impressed by Kelly's sweet yet professional disposition; her attention to detail was impeccable and although her time was always in high demand, she was never too busy to find a moment to chat. I was in awe of all the tasks Kelly so patiently handled, always with a smile, never missing a beat. With Kelly, no question went unanswered, no concern was left unattended. She is loved by students and parents alike, and I wish her all the best in her new endeavor. With Kelly's work ethic, I know she will provide a positive experience for each and every one of her students." - Karen Rocks (team parent)

"When my daughter moved to a different gym several years ago, I was pleasantly surprised to see that Kelly worked as the Office Manager for the gym. On my first night there Kelly reminded me that she had my daughter in a dance class she assisted in when my daughter was between 3 and 4 years old. We discussed how shy my daughter was when she first started taking dance classes. After my daughter and I left that evening, I asked my daughter if she remembered Kelly and she said, "Oh yeah, she was so nice to me!" Kelly definitely made an impression with my daughter. Kelly was someone that you could always count on. I knew I could call her with any question, and she would immediately provide the answer. She knew how the gym ran, she knew what was needed and when. She was like a second mother to our children. She always looked out for them when they were at the gym. If they needed time to do their homework she found them a spot to do it. If they were not feeling well, she would comfort them. If their parents were late picking them up after practice, she would wait with them. She was the one that the girls turned to at the gym. Kelly has always handled herself in a respectful, professional manner no matter what type of situation. Every time you walked in the gym you were greeted with a warm welcome and a smile !!" - Lori Moccio (team parent)

"Kelly Pucci is one of those individuals that you instantly like when you meet her. That's exactly how I felt when I met her for the first time! I've had the pleasure of knowing her for the past five years and she posses all of the qualities of a kind, caring and compassionate person. These are the types of characteristics that you look for when entrusting the care of your child to a child-care provider. Kelly was the office manager for my daughter's gymnastics program. All Stars Gymnatics is an extremely busy gym and she kept it running like clockwork. I've never seen her frazzled or close to losing her patience the whole time I have known her. Although I am extremely sad that we are losing Kelly, I'm equally excited to see her branch out to a new endeavor." - Carol R. Henry (team parent)

"Wishing you good luck with your gymnastic program. We are really missing you at All Stars. Miss your big smile and greeting each time we go in and all the help you have provided us this past year. Rihanna and Taylor want to visit you at your gym, and I did tell them we will try to do that if we are in your area. You were so helpful to the girls in helping them adjust to the program and keeping me on track with everything that goes with it." - Julie Theroux (parent of two recreational students)

"There's nothing better than always being greeted with a smile and you can even hear it in a person's voice when you talk with them over the phone. This is the first of many wonderful things that come to mind when I think of Kelly Pucci! I have had the pleasure of knowing Kelly since my daughter participates and trains in the sport of gymnastics at the gym Kelly has managed over our past 5 years with her there. During summer camps especially, when the kids are with Kelly almost full-time, it always felt like leaving them with family, knowing they couldn't be in better hands, and that they would return to us at the end of the day with smiles just as big as hers! From taking care of the business, to taking care and working with our little athlete's, it is apparent that Kelly's heart is in the gym 110%. If you and your family are as excited to get to know and work with Kelly Pucci as I have been – you will understand why she has been a cherished part of our gym family - and she is certain to become a part of yours, as your own kids learn, grow strong, and have FUN at Kid Power Gymnastics!" - Rachel Reel (team parent)

"I have known Kelly Pucci for the last five years while she was manager of the All Stars Gymnastics Academy in Windsor , Connecticut . She was always helpful and there to answer my questions. I really felt taken care of when dealing with her. What I liked the most about Kelly was her care and concern for the children in the gym. I really appreciated how pleasant and understanding she was with any issue that arose. I have no doubt in my mind that parents will enjoy working with her just as much as I have." - Rocquel Cigal (team parent)

"Kelly is a warm and caring person ! She is always very compassionate with the girls and very understanding and helpful with all of us parents! Good Luck Kelly I know you will do GREAT!!!! You are going to be missed!" - Kimberly Bulgajewski (team parent)

"I am pleased to write a letter of recommendation for Ms. Kelly Pucci. We first met Kelly when our daughter signed up for a gymnastics class at the gym where Ms. Pucci was working. She is very friendly and makes everyone feel very welcome when they walk through the doors of the gym. I've often wondered how Kelly remembers each and every name of the students along with their parents and greets them each and every time using their first names. It is a skill that few people possess. Ms. Pucci is incredibly knowledgeable about running the front office of a gym and is the best frontline person I have ever had the experience of working with. She is always on top of what's going on in the gym and will contact the parents to make sure that no student gets left out of activities that they may want to attend. Ms. Pucci has saved me on numerous accounts by her following up with us to see if our daughter was interested in certain events happening at the gym. One time in particular, we were on vacation and had forgotten to sign our daughter up for the end of the year show before we left. When we returned home, there was a voice message from Ms. Pucci saying that she had ordered our daughter's leotard for the show using the same size as last year and all we needed to do was to call her to confirm. I cannot say enough good things about Ms. Pucci. She has made our experience at the gym a very positive one. Anyone would be lucky to work with her." - Patti Grimmett (parent of recreational gymnast)

"I really can't express into words how absolutely amazing Kelly Pucci is -- but I'm going to try. Kelly is a hard-working professional whose main objective is to see your child shine. She is sincerely interested in the well-being and productive growth of your child. If you want a place where your child will blossom in a supportive and kinetic environment then look no further." - Rochelle Moore (team parent)

"I met Kelly in 2007 when she started working at All Stars. She was so helpful and friendly that quickly I knew that this was the right place for my daughter. With time I learned more about Kelly. She is efficient, friendly, smart, reliable, honest, keeps you on your toes and always glad to help. As a mom I don't entrust my kids to everyone, but Kelly is one of those few people that I know I can trust with my kids. From summer camps to everyday practice Kelly always was the go to person." - Cyndia Sanchez (team parent)

"Kelly is an amazing person! I met Kelly several years ago when my daughter started doing gymnastics in a recreational class at All Stars Gymnastics. Through my experience knowing Kelly, she has been so much more than an office manager. She is a coach, a counselor to all those that need a shoulder to cry on, a nurse who gives ice and bandaids for boo-boos, and most importantly, a friendly face to talk to!! Kelly displays the utmost professionalism and keeps everything running smoothly! When you lose something, she'll find it! When you need something, she'll provide it! Kelly is so passionate about her job and has an abundance of love and devotion for all the children who are lucky enough to know her!! Kelly goes above and beyond to make others happy! We wish Kelly luck in her new endeavor! You will LOVE her!" - Michelle Nieves (team parent)

"My name is Karen Isabelle and my daughter is a competitive gymnast at All Stars Gymnastics Academy in Windsor, Connecticut. I have had the pleasure of knowing Kelly Pucci for the past five years while she was managing All Stars Gymnastics Academy and assisting with ballet instruction. During the last five years, Kelly has always handled herself in a very professional and courteous manner. She is an extremely organized, caring and compassionate person who is very dedicated to all she does. Kelly is always willing to go the "extra mile" for anyone at any time and, of course, with a smile on her face. I had mixed emotions when I learned that Kelly was going to be leaving All Stars Gymnastics Academy. I was so happy that she was embarking on a new endeavor: opening her own gym, Kid Power Gymnastics. I am certain Kid Power Gymnastics will be a huge success simply because Kelly is at the helm. On the other hand, I was so sad because she would no longer be at All Stars Gymnastics Academy" - Karen A. Isabelle